About Greg Harvey
Greg Harvey, CEO of Queen Group, is a colourful character. After matriculating in 1982 Greg studied for a BComm (Accounting) at Rhodes University in Grahamstown. Before he could join his father in the business, Greg was called up for duty in the army.

Greg joined his father at Queen Motor Spares in 1987 and took over the reins in 1992 and commenced a vigorous expansion programme into other towns in the area and into other motor related businesses.

Despite his heavy involvement in the Queen Group, Greg managed to follow his passion for offroad car racing and was South African Offroad Champion in 1995, 1998 and 2002, when he retired from competition. Greg also raced offroad motorbikes.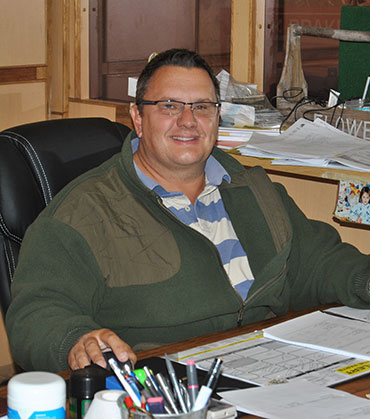 In 2002 Greg bought a small farm (1 200 hectares) outside Queenstown and a new passion was born. Greg found that all the farms in the immediate area had been overgrazed and reduced to scrub. Greg has slowly rehabilitated the farm and has acquired other farms to create a 55 000 hectare oasis. Virtually every part of the extended farm has been restored, a process which takes many years. Where before there was devastation there is now lush grassland and savanna, sustaining herds of game.

Greg is committed to increasing both the quantity and the quality of the game on the farm. He has imported various species from other African countries. On the farm are several species of buck that have been hunted to extinction in their native lands. Huntershill regularly acquires excess animals from zoos and has often exchanged animals with East London Zoo and has supplied animals to other zoos.

The farm is known as Wilschutsberg Game Reserve and a lodge has been established. Greg has created a mini zoo and allows school tours to visit, where they can learn about conservation. Part of the farm, 'Huntershill', is used for hunting ('Huntershill Safaris').
Greg's philosophy is to grow the herds until they are fully sustainable and only then allow hunting, when older and better specimens can be hunted.
Huntershill Safaris has its own a butchery. The farm employs over 40 staff, and another 40 are employed at the butchery.
Hunting brings in much needed foreign exchange to South Africa, not just at Huntershill. Most hunters visit other areas of South Africa as part of their trip. International hunters who have visited Huntershill have been very generous to the local community and have helped to build classrooms and other facilities at local schools.